Emergency paramedic
Location of the training provider
Hamburg
Type of training/education
Academic and practical
Details
The training & education programme lasts two years and includes 780 theoretical and practical hours, as well as 420 theoretical and practical units in a hospital. After the two-year training & education course, there is a one-year placement in the field oation and government agencies.
Training allowance
No remuneration is paid during the school training course. The professional traineeship is paid.
What are my activities in this job?
Emergency paramedics are responsible for first aid at the scene of an emergency, and independently lead immediate actions until the patient is seen by an emergency doctor. They then transport the affected under professional care to the hospital, disinfect the ambulance and prepare the ambulance for the next emergency callout. They are also responsible for transport certificates, incident reports and documentation of the callout. Paramedics also receive and coordinate emergency calls at the office. They assist in the medical emergency and acute care of patients and independently carry out measures ordered by a doctor for patients in an emergency.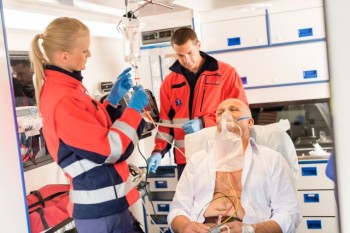 QUALIFICATION: Emergency paramedic
Where can I work?
Emergency paramedics mostly work in hospitals, where they are primarily employed by ambulance and emergency services. Emergency paramedics can also work for blood donation services, city fire departments, disaster aid organisations and local rescue services.
What requirements must I meet?
Secondary school certificate or
Frst general education school leaving certificate and a completed two-year course of training/education or
Successful completion of ten years of schooling that extends the first general education school leaving certificate
General medical fitness; minimum age 18 years; no criminal record
How much will the training cost?
Subject to certain costs, such as school fees or admission/examination fees.
Do you want to know more?