Physiotherapist
Location of the training provider
Hamburg
Type of training/education
Academic, consisting of theoretical as well as practical contents
Details
The academic training lasts three years and includes theoretical and practical contents. Even after training & education is completed, regular further education sessions must be attended in order to maintain up-to-date knowledge and skills.
Training ALLOWANCE
No remuneration is paid during the school training course. A funding via BAföG is possible under certain conditions.
What are my activities in this job?
Physiotherapists maintain and promote the movement and function of the human body, especially for people who are limited by age, accident or illness. They apply physiotherapeutic techniques such as massage, water, mud, inhalation, electrical stimulation, light, and heat. Treatment by the physical therapist is based on referral by a doctor.
It helps to restore physical and mental health, often in addition to drug-based and surgical treatments. Physiotherapists plan the course of treatment, conduct individual and group treatment, advise patients and motivate them to undertake more independent activity.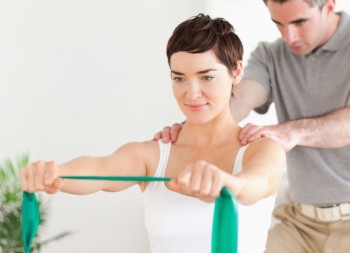 Qualification: Physiotherapist
Where can I work?
Physical therapists can work in a diverse range of fields. These include hospitals, rehabilitation facilities, physiotherapy schools and facilities for the disabled, such as spa and wellness facilities, fitness centres, senior care and nursing homes, specialist doctor practices and outpatient nursing services and sport associations.
What requirements must I meet?
Secondary school certificate or
First general education school leaving certificate and a completed two-year course of training/education
Successful completion of ten years of schooling that extends the first general education school leaving certificate; other general schooling.
General medical fitness
How much will the training cost?
Subject to certain costs, such as school fees or admission/examination fees.
Do you want to know more?