Speech therapist
Location of the training provider
Hamburg
Type of training/education
Academic and practical
Details
The training comprises 3,170 theoretical and practical hours at the vocational school and 1,230 practical hours in a hospital or laboratory.
Training allowance
A remuneration is paid during the training:
1st year 1.065 euro
2nd year 1.125 euro
3rd year 1.222 euro
What are my activities in this job?
Speech therapists assess and treat deficiencies in language, speech, vocals, swallowing and hearing, if these are speech-related. They make diagnoses and provide treatment and consultation for patients and relatives.
Treatment is provided using speech therapy methods such as breathing and relaxation exercises. Speech therapists work closely together with doctors and administer treatment according to doctors' orders.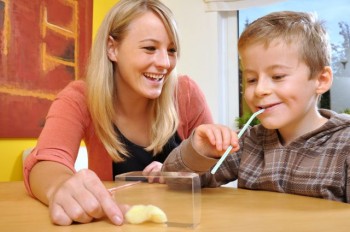 QUALIFICATION: Speech therapist
Where can I work?
Speech therapists can work in specialised clinics for hearing, voice and language disorders, specialist ear, nose and throat practices, neurology, rehabilitation facilities and hospitals or can work on an independent basis.
What requirements must I meet?
General (or subject-related) university entrance qualification or
Secondary school certificate or
First general education school leaving certificate and a completed two-year course of training/ education
How much will the training cost?
Subject to certain costs, such as material or examination fees.
Do you want to know more?